Organic Hawthorn Berries
for rabbits, chinchillas, guinea pigs, degus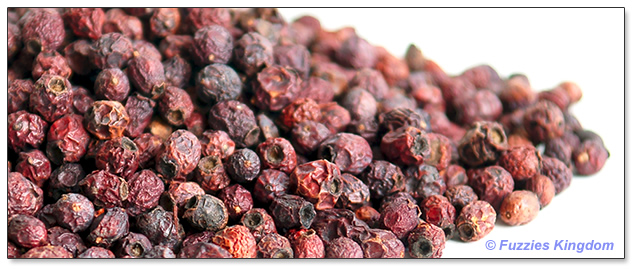 Net Wt: 85g
Delicious and healthy treat
Stimulate appetite and aid digestion
Source of numerous vitamins and minerals
Contain a significant amount of bioflavonoids that enhance the absorption of vitamin C
One of the most valued and safest heart and vascular tonics
A hawthorn berry is a berry-like pome that is a good source of numerous nutrients, including vitamin C, vitamins B1, B2, B3, B6, B12, potassium, phosphorus, iron, zinc, and choline.
Hawthorn berries are nature's safest heart and vascular tonics. They help prevent heart disease in chinchillas, rabbits, guinea pigs and other small pets. Hawthorn berries abolish some types of rhythm disturbances and are used in the treatment of congestive heart failure.
Dosage and directions are listed on the product label.
Safety: We only use herbs that have an excellent safety record over thousands of years of use by pets and people, and are widely used today. We do not add herbs that just look cute or sound fancy, much thought and knowledge is invested is each formula that we offer. We won't risk the well being of your pet offering sugary treats or a herbal compound that is not recommended for internal use by AHPA.