Advanced Formula Herbal Heart Remedy
for rabbits, chinchillas, guinea pigs, degus
Only fresh, Certified Organic Ingredients used
Organic Advanced Formula Heart Support

for rabbits, chinchillas, guinea pigs, degus
Supplies the heart with necessary nutrients, contains minerals and other elements necessary for proper regulation of heart rhythm
Allows more oxygenated blood to nourish the heart
Normalizes heart activity. Valuable for improvement of cardiac weakness, murmurs.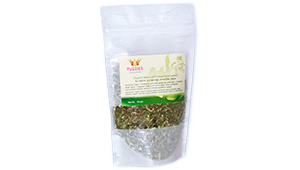 Just a note to say thank you for your wonderful heart problem formula. I have a guinea pig with veterinarian-confirmed heart problems. She did not prescribe treatment for him because it is early in his disease, but I had a pig with a similar problem who went downhill very fast. In comparison, Gus has improved dramatically. Both he and his cage-mate have much more energy (noticeable even to occasional visitors) and for the moment the progress of his diseased has halted, with almost all the symptoms resolving within a month. I think Gus would be dramatically worse off or even have passed away without this product, and I can't thank you enough.

~Kate
Advanced Formula Herbal Heart Remedy is helpful in treatment of mild to moderate congestive heart failure.
Hawthorn is one of the most valued and safest heart and vascular tonics today. It's good for heart weakness, heart palpations; hawthorn abolishes some types of rhythm disturbances. It helps to increase transport and circulation of oxygen and nutrients throughout the body. Hawthorn dilates vessels, therefore enhancing the metabolic processes in the heart muscles.
Motherwort is also an excellent cardiac tonic, especially beneficial for chinchillas, rabbits, guinea pigs and other small pets who also suffer from anxiety and tension ( arrhythmias and heart palpitations are closely related to nervousness and stress). Motherwort inhibits clot formation, increases coronary perfusion.
Oatstraw and oats calm nervous palpitation of the heart, nourishes the heart and circulatory system.
Dandelion is one of the richest sources of nutrients on earth, supplies the heart with necessary minerals, vitamins, trace elements. Heart problems often lead to edema or ascites ( accumulation of fluids, especially evident in the lungs). Dandelion helps to eliminate excess fluids and at the same time it supplies animals with potassium, crucial mineral for healthy heart function.
Flaxseed improves heart health, enhances the mechanical performance of the heart and makes arteries more flexible, helps to keep a passageway smooth.
Ingredients: Organic hawthorn leaves, flowers and berries, organic motherwort, organic oat tops and oatstraw, organic rosehips, organic dandelion root and leaves, organic flaxseed.
Directions: Chinchilla, guinea pig, small and medium rabbits - 1/2 teaspoon; larger rabbits - 1 teaspoon; degu- 1/3 teaspoon daily for 6-12 weeks. When improvement noticed, reduce to 4 times a week for support.
Safety: We only use herbs that have an excellent safety record over thousands of years of use by pets and people, and are widely used today. We do not add herbs that just look cute or sound fancy, much thought and knowledge is invested is each formula that we offer. We won't risk the well being of your pet offering sugary treats or a herbal compound that is not recommended for internal use by AHPA.